by outsider on Sep.03, 2013, under News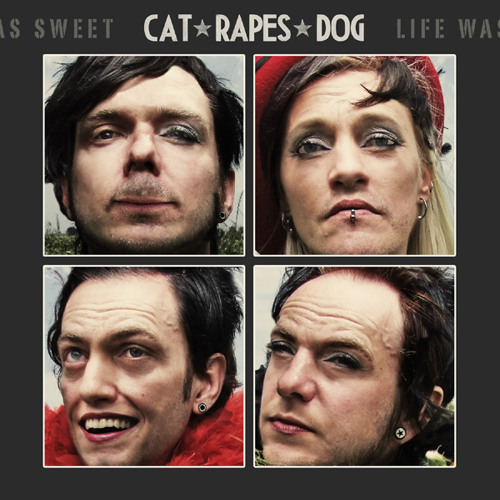 Somehow we just knew we had to make music. Problem was we couldn't play and didn't have any instruments.
Described by Sweden's national tabloid Expressen as "a perfect union of Front 242 and the B-52's," Swedish electronic punk group Cat Rapes Dog is back with their first album since 1999. The new album, dubbed Life Was Sweet, is the seventh Cat Rapes Dog studio release and first on label Artoffact. The band gets right to the point and stays true to their punk rock roots, rarely pausing and skipping all filler. The album clocks in at a "fits on vinyl" 35 minutes, but in this short space Cat Rapes Dog will tell you to go out and vote, give you a lesson in religion, and baffle you with a sense of humour all their own. Manic electronic synth lines meet over-the-top male and female vocals on nine tracks of pure DIY weird.
A vinyl version of Life Was Sweet will also be released by German label Emmo in September.
A limited 2CD edition of Life Was Sweet will also be released on September 3rd. The bonus disc includes the best of the Cat Rapes Dog late-80s recordings, originally released on cassette and never available again. The CD includes songs from the cassettes "Cat Rapes Dog," "Nekronomikon," and "Property Produces Bodily Injury."
For more information, audio files or album streams, please contact Jacek Kozlowski (contact below).
CAT RAPES DOG IN THE PRESS
A perfect union of Front 242 and The B-52's.
—Expressen
They remind me a great deal of Rob Zombie; same rhythmic constructions, same lust for dance.
—Close-Up
Cat Rapes Dog has shouldered the electrorock mantel dropped by Marilyn Manson and Ministry.
—Zero Magazine
LINK TO ALBUM STREAM
https://soundcloud.com/artoffactrecords/cat-rapes-dog-through-a-glass
https://soundcloud.com/artoffactrecords/cat-rapes-dog-vote
BAND INFO
HOME BASE:      Malmo/Gothenburg, Sweden
MEMBERS:         Annelie Bertilsson, John Lindqwister, Jonas Avertoft, Magnus Fransson
GENRE:               Pop-punk, Electro-punk, EBM
HOMEPAGE:       https://www.facebook.com/pages/Cat-Rapes-Dog/
PRESS CONTACT
Storming the Base
Jacek Kozlowski
jacek@stormingthebase.com