by outsider on May.27, 2014, under Album Reviews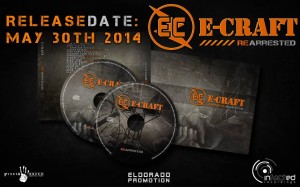 Two years ago while doing an interview with E-Craft lead man Guido,  I was sent a few tracks of their upcoming album. It had been five years since their previous full release "Unsocial Times" and hearing some new music from E-Craft back in 2012 was very exciting for me. Having been a longtime fan, I was excited about the thought of a new album. Weeks went by, then months, then years, and still no news of the album release.
Until early this year when they announced a release date for their new album. I was over joyed.
Then the other day while chatting with Guido, I was offered the privilege to hear the new album in it's entirety. Though a lot of elements remained from the early samplers I heard two years earlier, the tracks on this album are fully mixed, polished and have more punch to knock your socks off.
I was blown away when listening to the album and my sock just barely managed to stay on.
On May 30 E-Craft will be debuting to the world their new album Re-Arrested. On this side of the pond, Vendetta Music will be distributing the album and in Europe the album will be distributed by Sony / Soul Food. The album is a double CD which will include 25 tracks (a few minutes short of two hours) of E-Craft love, 16 of which are new and the rest are remixes or different versions.
Stay tuned and watch E-Craft's Facebook page or E-Craft's web site for details at the end of the month.
Here is a teaser of the new album.