by outsider on Jun.09, 2014, under News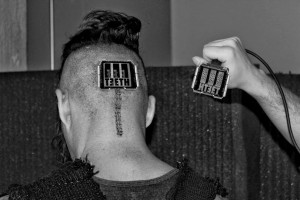 Los Angeles industrial foursome 3TEETH released their debut self-titled album on Artoffact Records on June 3rd, landing at #8 on iTunes Electronic chartand reaching #5 on Bandcamp's overall sales rankings. The group garnered praise from all corners of the internet in the weeks leading up to the release, including high marks from top blogs Earmilk, Mishka, I Die: You Die, Design Milk, and Electronic Beats. A remix album featuring the likes of Aesthetic Perfection, Bestial Mouths, AAIMON, and Blush Response—and released on a tooth-shaped USB stick—sold out on pre-orders, as did the band's accompanying splatter vinyl.
3TEETH formed in late 2012 and the group spent 2013 crafting their sound and creating an online image that is at once political and mysterious. The group's logo-emblazoned photos have become the stuff of memes, and their online fanbase has increased with every leaked remix, video, and photograph.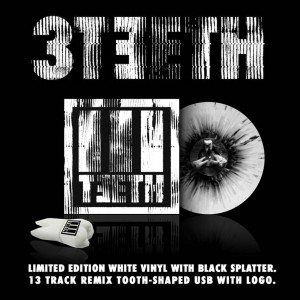 3TEETH will debut their live show at LA's prestigious Complex club on June 21st, and they will make their Canadian debut at Calgary's Terminus Festival June 27th-29th. More tour dates are in the works.
3TEETH IN THE PRESS
"Bands like 3TEETH and Youth Code are reviving a scene that had become bogged down by formulaic bands seeking underground success."
–Caroline Williamson, Design Milk
"3 Teeth are poised to connect all the fucking dots and release the sort of record that defines Our Thing in the coming year."
–I Die: You Die
"A heavy contender for album of the year."
–Backseat Mafia
"3TEETH offers a blow-your-face-off new Industrial album with depth and grit, reminiscent of Trent Reznor's 'Girl with the Dragon Tattoo' scoring. It will actually shake your bones…you can't miss this."
–The Daily Grind
 "A+. Instant contender for Album of the Year. Everything industrial music should be in 2014."
–Unappreciated Scholars
 MUSIC STREAMS
https://soundcloud.com/3teeth/
 UPCOMING SHOWS
June 21st, 2014: Los Angeles, CA; Complex
June 27th-29th, 2014: Calgary, Canada; Terminus Festival
July 18th, 2014: New York; Revolution Music Hall
July 19th, 2014: Boston, MA; Elks Lodge
BAND INFO
HOME BASE:      Los Angeles, California
MEMBERS:  Alexis Mincolla, Xavier Swafford, Andrew Means, Chase Brawner
GENRE:              Industrial, Metal
HOMEPAGE: https://www.facebook.com/3Teeth
Leave a Comment
more...